REDEMPTION PLAYERS GUIDE
Released in 1996 the Player's Guide was an expanded rulebook giving insights into rulings and card play. The player's guide was retired when the decision was made to add a larger, more extensive rulebook to the starter decks.
A & B STARTER DECKS
The starter decks that started it all! The A & B decks were printed in both 1995 and 1996. As the game matured, the "simplicity" of the A & B decks lost their appeal. They were retired in 1999.

C & D STARTER DECKS
The C & D starter decks released in 2000 replacing the A & B starter decks. The C & D decks quickly became player favorites with their new, more powerful cards. The new, expanded rulebook was also greatly welcomed by the players. The decks were reprinted in 2002 with a few revisions on some of the cards. The decks were retired in 2004.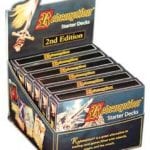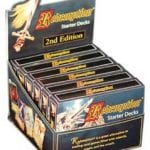 WARRIORS BOOSTER PACKS
The Warriors booster packs released in 1999. To say that the Warriors saved Redemption® would be a serious understatement. With the addition of the silver brigade characters like Michael and Gabriel and other powerful warriors found in the Bible, the Warriors set quickly sold out in 2003. The decision was made to retire the set and then reprint the cards in later sets. Some of the Warrior cards are now found in the Kings Expansion set and G & H Starters.
10TH ANNIVERSARY COLLECTOR'S TINS